Item request has been placed!
×
Item request cannot be made.
×
Processing Request


We've compiled this listing of the many services available inside the library.
We hope your needs are covered, and we're always here to help.
Who is eligible for a free Library Card?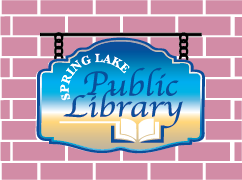 All Spring Lake property owners and their children (age 8 and older) are elibigle for a free library card.*
You will need a form of ID showing proof of residence, such as a Driver's License or a piece of mail.  Bring this ID into the library and fill out our Registration Form to complete your sign-up.  You will not receive an actual card, your account will be in our system.
---
*If you own property in Spring Lake, but live elsewhere through the school year, you are still eligible for a library card at no fee.
*If you are renting a property in Spring Lake for the school year, you may sign up for a family card at no fee.
Non-Resident Cards and Summer Renters
Non-Residents and families renting in Spring Lake during the summer months may apply for a Non-Resident Card. Simply submit the registration form inside the library, a form of ID that shows current address and pay the applicable fee.  Those renting for the Summer will be required to show their lease.
---
| Non-Resident Patron Category | Fees |
| --- | --- |
| Non-Resident | $25/yearly |
| Non-Resident Senior (62 and older) | $10/yearly |
| Summer Resident (including Seniors) | $25/season |
Steps for Setting Up Your Account
Once you are on our Library Catalog page, use the Login at the right hand corner to create your Online Account.
User Name is your Library Patron Number (call us if you need this number)
The default password is springlake. You are welcome to change this once you are in.
---
If you are already registered, simply Login to begin. The Search Bar is at the top of the Catalog Page, and you can view newly added items in the carousels.
Items Available Inside The Library
| Item | Loan Period | Late Fee |
| --- | --- | --- |
| Books | 2 Weeks, renewable if no Holds | $.05/day |
| DVDs | 1 Week, renewable if no Holds | $.50/day |
| Audio CDs | 2 Weeks, renewable if no Holds | $.05/day |
| Magazines | 1 Week, renewable if no Holds | $.05/day |
| Kids' LaunchPads | 1 Week, renewable if no Holds | $.50/day |
Items Available Online
| Item | Location | Loan: Libby | Loan: Hoopla |
| --- | --- | --- | --- |
| E-Books | Libby / Hoopla | You Set: 2 or 3 Weeks | 1 Month |
| E-Magazines | Libby | You Set: 2 or 3 Weeks | n/a |
| AudioBooks | Libby / Hoopla | You Set: 2 or 3 Weeks | 1 Month |
| Streaming | Hoopla | n/a | 1 Month |
Print, Copy, Scan and Fax
Computers, WiFi, Copy, Print, Scan and Fax Services are available.
Copy / Print / Black- $.10 per page

Copy / Print / Color- $.50 per page

Scan- $1.00 per scan.  Scan will be sent to one of our public computers for you to access

Fax- $1.00 per page  You will need to be present to receive a fax.
---
Computer and Internet Policies:  You may not use the Library's computers for any fraudulent or unlawful purpose.  The computers must be used in a responsible manner, respecting the rights of others, and taking care with the use of the equipment. Computer and Internet settings may not be changed, and we do not allow the use of any USB drives*.
---
New Jersey Statute 2C:34-4 prohibits you from accessing or displaying pornographic and/or obscene materials. You will forfeit your Internet privileges if you violate these terms of use. The Library cannot be responsible for the availability, timeliness, security or reliability of the Network. The Library cannot assume responsibility for the security of privacy of any of your online transactions.
Notary Public

Notary Public Service is available by appointment weekdays from 12pm - 4:30pm, with the exception of Thursday.
Notary service is provided free of charge to the public.
A valid (government-issued) photo identification is required for everyone requesting notary service.
Notary service is limited to three (3) documents per person, per visit.
The Spring Lake Library will not provide witnesses, and witnesses may not be solicited from among other patrons.
Documents in any language other than English cannot be notarized here.
New Jersey requires that a Notary and the person seeking notarization be able to communicate directly with each other.
Certain public documents cannot be copied and notarized. Examples are United States birth certificates, death certificates, and marriage certificates.
Notary service is not available for deeds, codicils, or depositions.
---
In accordance with New Jersey Notarial Law, Notaries will not provide service if the patron, document, or circumstances of the request for Notary service raise any issue of authenticity, ambiguity, doubt, or uncertainty for the Library. In this event, Notaries may, at their sole discretion, decline to provide Notary service.
What is an ILL?
An Interlibrary Loan (ILL) is a Book, DVD, or Audio CD we would request from another Library if we do not carry the item.
Any Library Patron will be able to borrow an ILL item for 2 weeks.  We ask that you return it to the Circulation Desk ~ no Drop Box Returns.
---
ILL Lending Policy:
There is a limit of 2 ILL requests at any one time.
We can only request items that are at least 6 months past release date.
Patrons will have 7 days to pick-up the ILL at the Circulation desk.
Patrons can check-out the ILL for 14 days.
Patrons can request one 14-day renewal if needed by contacting the Library. If the lending Library refuses the renewal, you will be contacted by the Library.
If a book is lost or damaged, patrons will be charged a replacement fee set by the lending library.
What can I expect?
How long will it take to get the item I requested?
Usually items take between 7-10 days to arrive
What if I lose an ILL item?
If an item is lost we will contact the lending Library, and whatever fee they detemine will be passed along to the Patron.
---
We have a dedicated corner for our ongoing book sale inside the library.
This running sale is accessible during library hours.  We stock these shelves with discarded items from our collection, as well as donations from our patrons and friends.  Many books, DVDs, AudioBooks and CDs are available for purchase, and we continue accepting donations whenever space allows.
Below is the pricing for these items.
| Items | Price |
| --- | --- |
| Books ~ Hardcover and Paperback | $.25/ each or 5/ $1.00 |
| DVDs ~ Movies and Series | $.50/ each or 5/ $1.00 |
| AudioBooks | $1.00 each |
| Music CDs | $.50/ each or 5/ $1.00 |